the patemm story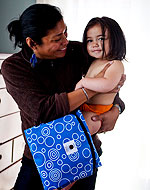 Upon graduation from New York University, I bought a one-way ticket to San Francisco to discover a new city and to start a new life. My parents had done the same almost 50 years ago when they immigrated to the United States from the Philippines. You could say it is from them that I learned how to be entrepreneurial.
Prior to children, I spent nearly six years doing public relations, marketing, and branding for a San Francisco design firm. While I always wanted to have a family, I also wanted to return to the workforce but only on my own terms. Starting my own business seemed like the best way to accomplish both goals. The next challenge was to define what kind of business.
As is true for most parents, my children consumed my life, and what I discovered were all kinds of baby products that worked and many that didn't work. When my first child Patrick was born, I found the small rectangular shape of diaper changing pads frustrating because aligning him in the right position was always a challenge—particularly since he was a rather wiggly baby. Even more annoying was the design of the folding/rolling pad that had ties, buttons, or even Velcro®. I needed something simple that could fold easily - especially with one hand.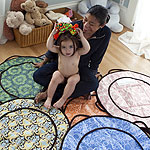 When my second child Emma was born, I, like most parents today, was always on the go and found my diaper bag overwhelming at times—especially for quick trips to the grocery store or a visit to the park. For these short jaunts, I only needed a few diapers, wipes, perhaps a change of clothes and a changing pad. Plus, I wanted something small and compact that I could throw in my car, handbag or even at the bottom of my stroller.
Emma was eighteen months old when I started to consider how to return to the work force. I was discussing ideas for businesses with my sister, when Emma needed a diaper change. My sister had been suggesting that a good business solves a problem. In the time it took to change Emma, I found my business venture: a round diaper changing pad.
I founded patemm inc in 2004, and named my invention after my first two kids who inspired the product: Patrick and Emma. My company and my family have grown since then, but the passion that inspires the company remains the same: my children, Patrick, Emma, Jack, and Lucie, and my husband Marty. The patemm® pad has received numerous awards and accolades for its unique design, convenience and style. As an American family, we have and always will be committed to manufacturing our products in the USA!
making changes easier®... with patemm® pads