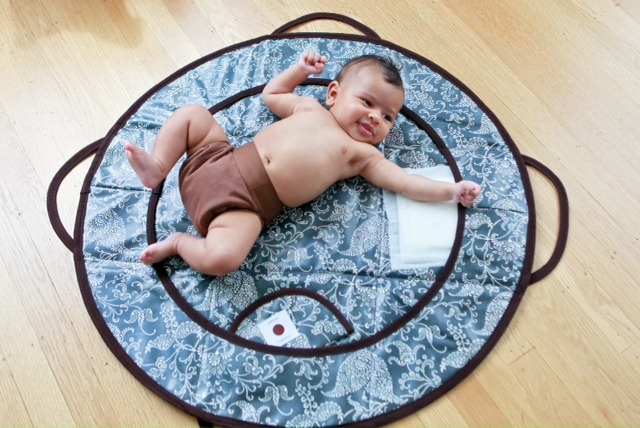 patemm inc proudly introduces the original, new and improved, mom-invented, patented*, award-winning portable patemm® pads, a round design that allows you to place your little one in any direction. You can store diapers, wipes, and even a set of clothes in the cleverly-placed inside pockets. When not in use, the patemm® pad folds into a compact carrier without the use of ties, buttton, snaps, or Velcro®.
"I couldn't survive changing a baby in NYC without a patemm!! It's so easy to wipe clean, which is key when dealing with icky city changing tables & bathroom floors! When we were looking for a diaper bag for baby #2, my husband insisted that we find one that could accommodate
the Patemm Pad!
Monica S., NY, NY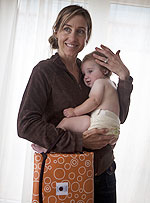 Our newest collection is made of fun, eco-friendly, PVC-free, and stylish prints in CPSIA*-certified laminated cotton, CPSIA-certified laminated polyester interlock, or 100% Certified Global Organic Textile Standards (GOTS) uncoated cotton. All pads are made with our custom signature chocolate brown trim and sewn-in polyester batting and still PROUDLY MADE IN THE USA!
All patemm® pads are 28 inches and each pad is designed with 4 outside handles allowing you to unfold/fold it with one hand. Once folded, an exposed handle flips over the top and an adjacent handle is used to carry the closed patemm® pad.
Our CPSIA-certified laminated cotton and laminated polyester interlock patemm® pads are waterproof and are PVC, LEAD, PHTHALATE, LATEX, BPA, AND FORMALDEHYDE-FREE. To clean, simply wipe down with a damp cloth and let air dry. They are also MACHINE-WASHABLE. (Gentle Machine Wash Cold, Do Not Use Bleach or Fabric Softeners. Dry Flat or Air Dry Completely before folding).

Our award-winning patemm® pads are both parent tested and third party laboratory tested by Intertek. We always strive to develop and provide high-quality products that place emphasis on the safety of our customers.

*US Patent #: 7,520,010, Design Patent #: D508181
* CPSIA-Consumer Product Safety Improvement Act